2ND TELEMEDICINE AND DIGITAL HEALTH SUMMIT
Over the time of a global pandemic healthcare industry went through a number of changes that affected both healthcare providers and patients. This unprecedented time facilitated developments in digital health and accelerated implementation and expenditure of telemedicine.
The years of 2020 and 2021 brought cutting-edge innovations to the scene but also made the professionals think on what the future of healthcare will look like.
How to improve the effectiveness of remote health monitoring? How can mobile health help in fighting the pandemic? How can healthcare automation help both healthcare providers and patients? How do wearable devices contribute to medical needs? These are some of the main questions the experts are raising in the sphere.
At the 2nd Annual Telemedicine and Digital Health Summit speakers and delegates will discuss such issues as ways to expand telehealth and telemedicine access, future of patient monitoring, health care automation, telemedicine regulation, the role of insurance in health ecosystem, sharing data within health ecosystem and many other topical and important questions.
Join us at the virtual event to be a part of important discussion on 17-18 February 2022.
Digital Health and Telemedicine tendencies to watch in 2022
Patient-centricity. Expanding Telehealth and Telemedicine access
Future of patient monitoring
New developments in Mobile Health
Healthcare and AI: challenges and benefits. Successful practices of AI integration
Telemedicine and Digital Health as a response to Covid-19 pandemic & How Covid-19 changes Telehealth
Healthcare: time to automate & increase productivity
'Remote first' clinical pathways – start where the patient is
The future of health insurance
Wearable devices: new form of health monitoring
Transforming healthcare with the help of medical VR
Sharing data within the health ecosystem: main challenges and ways to solve them
Providing better care coordination with the help of cloud-based systems
Predicting future trends in Telemedicine and Digital Health. What to expect for after-Covid times?
Registered Companies Include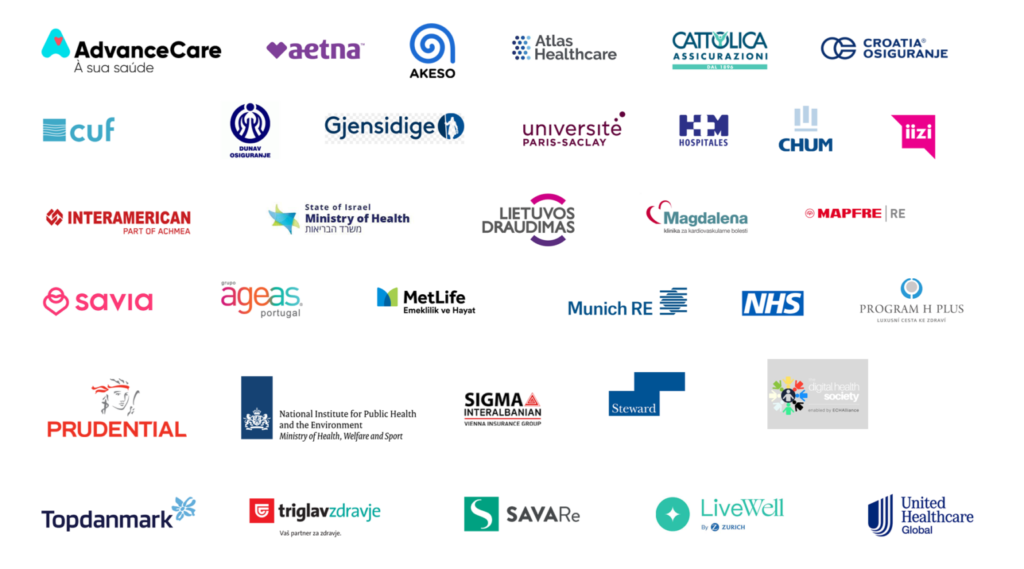 Health Insurance Companies, including the following experts/departments:
– Health Insurance
– Business & Product Development
– Strategy & Business Development
– Chief Commercial Officers
– Data Science & IT (Health insurance related)
– Health Insurance Pricing
– Health Insurance Distribution
– Medical Channels
– Chief Innovation Officers
– Chief Transformation Officers
– Digital etc.
Managed Care Service Providers
IT Software Solutions Providers
Hospitals
Technology Experts & Solutions Providers
Start-ups
Innovation labs
and others.
Testimonials From Previous Events
"Well organized, very good speakers. Interesting and useful information in presentations"
― Head of supplementary health insurance department, Union, poistovna a.s., Slovakia
"Very good, innovative presentations regarding how technology will change the way of handling claims in the future."
Head of Green Card Department, Eurosig Insurance Company, Albania
"Informative, good interactivity, well balanced mix between theory & practical cases."
Claims Manager, Hiscox SA, Portugal
"It is always a refreshing experience to have a view of the market and technological changes in other countries… It helps to find solutions to our own challenges."
Head of Services, European Travel Insurance Company, Hungary
"Excellent and very informative"
General Manager, Afro Asian Assistance, Bahrain
and secure your place in time
2ND TELEMEDICINE AND DIGITAL HEALTH SUMMIT
17-18 February 2022, Virtual Event