19th ANNUAL GLOBAL MICROFINANCE FORUM
Amsterdam, The Netherlands
Over the past years, Uniglobal successfully evolved by bringing impactful gatherings and shared knowledge, one of them is to give Microfinance sector a chance to have an amazing annual one-on-one meeting opportunities and networking between MFIs, MIVs and Investors. To accelerate financial inclusion and sustainability, our key industry leader's, senior experts and diverse minds will converge to bring forth innovative approach.
Uniglobal's 19th Annual Global Microfinance Forum will address important issues such as increase in global regulations, future of financial inclusion, climate-smart financing, development impacts, pursuing an inclusive growth agenda, considerable financial turbulence and other key questions that industry facing right now and to help shape the financial system. By accelerating financial inclusion, we are creating a positive impact together while having an enticing, fruitful and unforgettable learnings.
OPENING PANEL DISCUSSION: How financial inclusion can boost sustainable economic growth?
Impact management with the help of SDG
Increasing global regulations on ESG and responsibility
Climate-smart financing for smallholder farmers
Considerable financial turbulence that will affect MFIs
Future of Inclusive finance
Green & sustainable finance; genuine change from MFIs
Bolstering migrant entrepreneurship in the EU
PANEL DISCUSSION: Embracing digitalization; increasing sustainable financial inclusion
PANEL DISCUSSION: Women economic empowerment by MFI's
Leveraging strategic partnerships
Development of Microinsurance Landscape and impacted climate risks
Importance of customer-centric strategy
Pursuing an Inclusive growth agenda
Climate Financing
CLOSING PANEL DISCUSSION: Development impacts achieved within the Microfinance Industry
Previous Registered Companies Include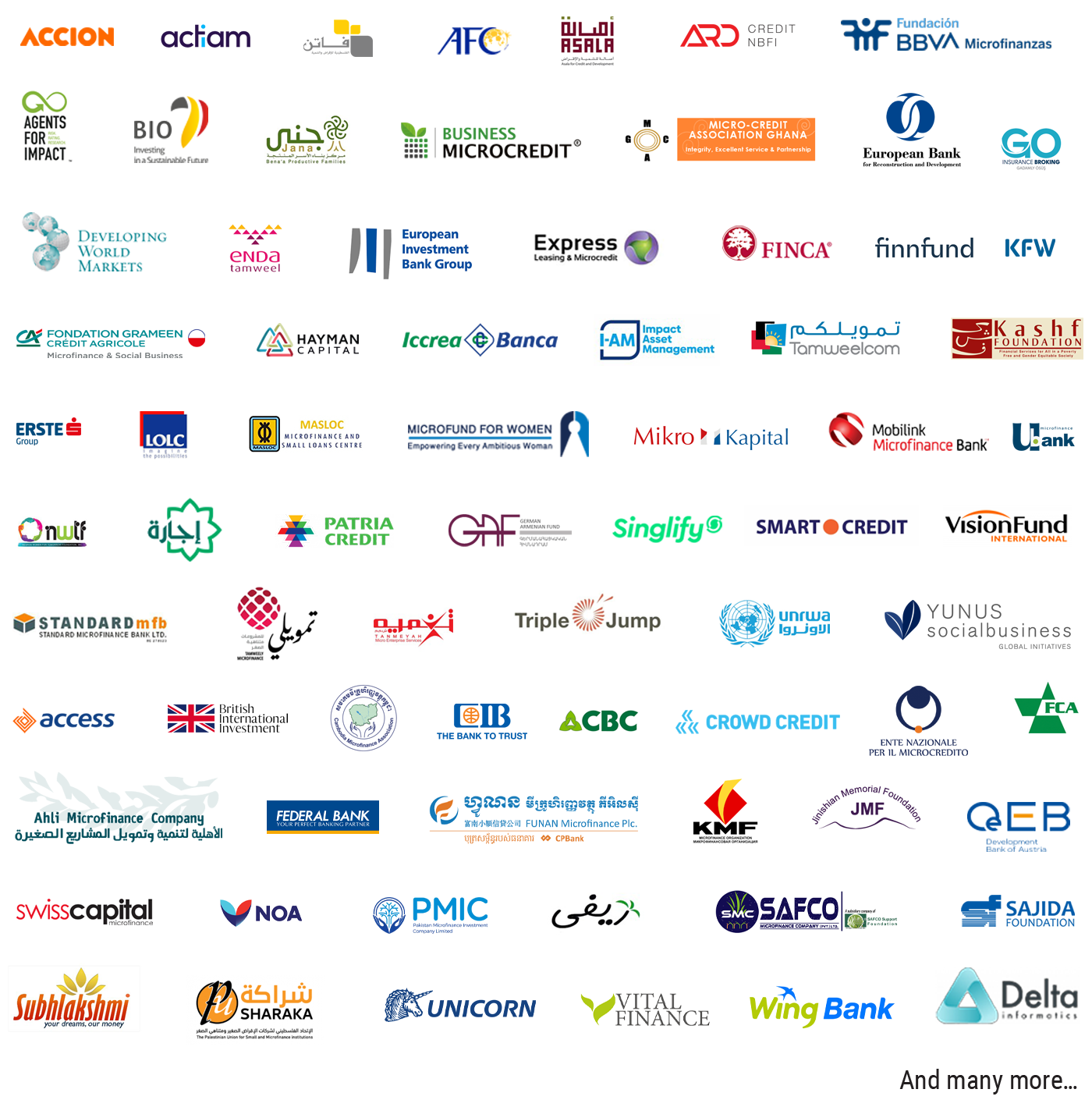 "It was great experience, very well organized and planned."– CFO, FINCA, Jordan
"Overall experience was good. The event was lively with attendees from different parts of the world and different organizations."– Investment Associate, Finnfund, Finland
"Benefited from all the sessions. Good exposure particularly on the new developments in microfinance" – Manager, Central Bank of Malaysia, Malaysia
"It was my pleasure. Congratulations for a very professionally run event and very informative. I would be happy to participate again" – General Manager, Alterfin, Belgium
"It has been a pleasure and I really hope to keep this nice cooperation in the future" – Founder & Chairman, Mikro Kapital, Luxembourg
"The overall experience is amazing" – CEO, Bosak Microfinance Bank Limited, Nigeria
"It was a great and very fruitful event for us where we had the opportunity to network and expose our brand. We are looking forward to attend the next edition! We would like to warmly thank you for the support and the great organization" – Frankfurt School of Finance & Management, Germany
Microfinance Companies
NBFC
MIVs
Investors
NGO's
Fintech Companies
Private Equity Firms
Credit Guarantee Funds
Software Companies
Solution Providers
Consultancy Companies
Private Development Banks
Cooperatives
Rural Banks
Financial Consultancy Firms
Credit Unions
Rating Agencies
JOB TITLES:
Board Members
Managing Director / Director
CEO
CFO
VP, Head of Business Development
Fund Manager
Head of Microfinance
Investment Officer / Manager / Specialist
Head of Social Responsibility Programs
Head Social Enterprises and Microfinance
Head / Director of Financial Institutions
Head of Microbanking – Microinsurance programs
Head / Manager of Impact Finance / Impact Assessment
Microfinance Technology Provider
Head of Investments
Director / Manager of Emerging Markets etc.
and others.
Amsterdam, The Netherlands
and secure your place in time
19th ANNUAL GLOBAL MICROFINANCE FORUM
14-15 March 2024
Amsterdam, The Netherlands