The current post-pandemic economic environment has significantly changed  the microfinance sector: MFIs' operations, portfolio, and liquidity, as well as ways of cooperation and information exchange with the other microfinance stakeholders. Many financial markets see the changing value of the local currencies, prices for goods and services, and costs of hedging, and decreasing opportunities of attracting the new investments. In addition, a slowdown in the real economy makes the clients of MFIs even more vulnerable, hence it requires the respective transformation of existing systems, policies, and approaches.
Uniglobal's 18th Annual Global Microfinance Forum will cover a range of topics that make this forum appealing to MFIs, investors, and other industry players from all over the world. It will bring on board a solid network of professionals and senior-level experts who will share their experiences and views on the current sector challenges and opportunities, as well as expectations and predictions about future trends in microfinance. During multiple sessions, the participants will discuss how MFIs adapt to and run in the new reality, current complications for microclients, the specificity of moratoriums on debt repayments, the rising importance of digital transformation and many other important topics.
Creating affordable and sustainable funding
The breakthrough of financial inclusion in the post-pandemic world
More on energy efficiency projects
Post-covid risk management
Looking through the lens of big data analytics
Applying ESG strategies to microfinance
Journey in rural and small urban microfinance Romania
People in the microfinance
Digitization opportunities
Disaster risk reduction in agriculture microfinance
Green inclusive finance
Scaling up agriculture microfinance
The rising role of client protection
Digitalization trends and technology
Registered Companies Include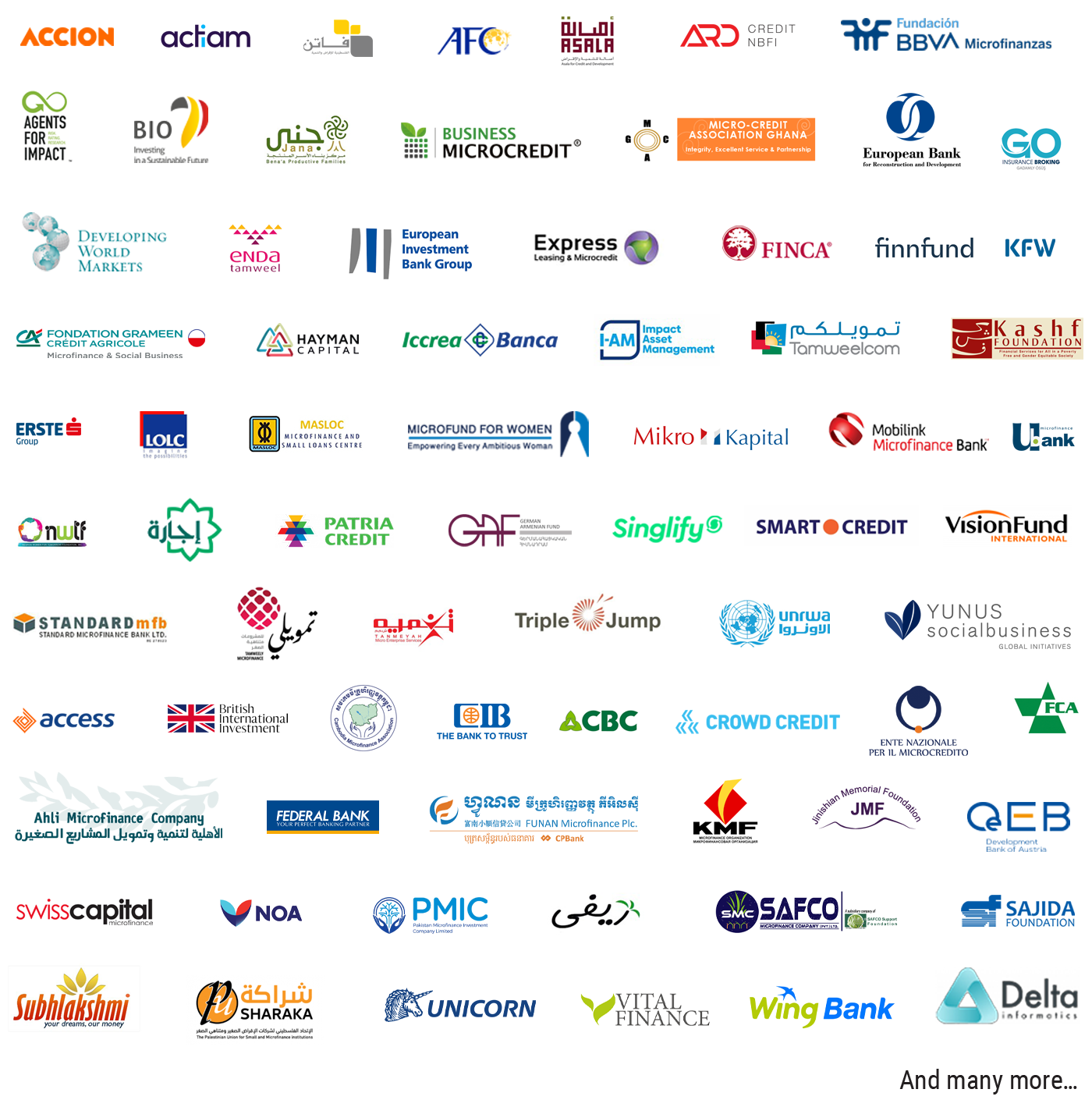 MFIS
INVESTORS
NGOS
MIVS
BANKS
FINTECH COMPANIES
PRIVATE EQUITY FIRMS
CREDIT GUARANTEE FUNDS
SOFTWARE COMPANIES
SOLUTION PROVIDERS
CONSULTANCY COMPANIES
JOB TITLES:
Managing Director / Director
CEO, CFO
VP, Head of Business Development
Fund Manager
Head of Microfinance
Investment Officer / Manager / Specialist
Head of Social Responsibility Programs
Head Social Enterprises and Microfinance
Head / Director of Financial Institutions
Head of Microbanking – Microinsurance programs
Head / Manager of Impact Finance / Impact Assessment
Microfinance Technology Provider
Head of Investments
Director / Manager of Emerging Markets etc.
WHAT ATTENDEES SAY ABOUT OUR FINTECH EVENTS
"Benefited from all the sessions. Good exposure particularly on the new developments in microfinance" – Manager, Central Bank of Malaysia, Malaysia
"It was my pleasure. Congratulations for a very professionally run event and very informative. I would be happy to participate again" – General Manager, Alterfin, Belgium
"It was a great and very fruitful event for us where we had the opportunity to network and expose our brand.We are looking forward to attend the next edition!We would like to warmly thank you for the support and the great organization" – Frankfurt School of Finance & Management, Germany
"I am pleased to have added value to the conference. There were interesting presentations, conversations and I had the opportunity to make some promising contacts. Thank you for organizing the conference and giving Swisscontact the opportunity to be part of it". – Regional Director – Central, East and Southern Africa Program, Swisscontact, Kenya
"It has been a pleasure and I really hope to keep this nice cooperation in the future" – Founder & Chairman, Mikro Kapital, Luxembourg
"The overall experience is amazing" – CEO, Bosak Microfinance Bank Limited, Nigeria
"Thank you so much! I could not have asked for a more cooperative team than yours. I hope we continue our association in the future! It was a pleasure to speak to your audience" – Head of Business Development & External Relations, Community Support Concern, Pakistan
"Very interactive and interesting" – Manager, Doverie Finance, Bulgaria
and secure your place in time
18th Annual Global Microfinance Forum
16-17 March 2023
Hotel Don Giovanni Prague, Vinohradská 157a, 130 20 
Prague, Czech Republic